Hiking Distance 3.7 km (from the Sixth Bridge one way)
Hiking Time It will take 1-2hrs to hike each way with a little sight-seeing time considered.


Getting to
Maligne Canyon..
To get to the Maligne Canyon Trailhead, follow Highway 16 towards Edmonton; go 1.8 km past the east Jasper exit to the Maligne Road. On the Maligne lake road go 2.1 km and then turn left at the Sixth Bridge sign. If you want to shorten the hike a little you can turn left at the fifth bridge(at 2.9 km), or just go straight to the Maligne Canyon itself(at 6.1 km). *The hike from the sixth bridge would be considered a must from our point of view.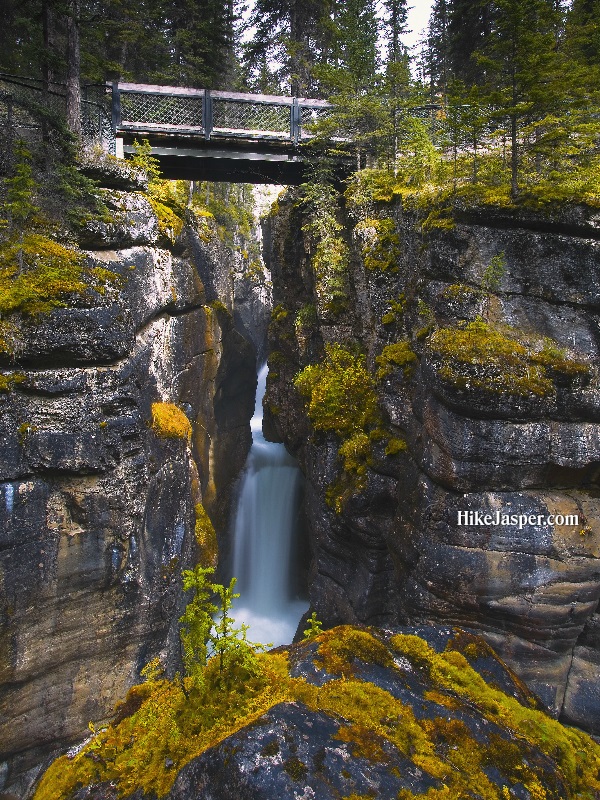 The
Maligne Canyon
Hike..
From the parking or picnic area at the sixth bridge, cross the bridge and turn right at the trailhead. Hike east from here on the clearly marked trail. The river is on your right and shortly, you will approach a number of springs, where water flows beneath you under limestone boulders. Hiking upstream, you will find that the springs become more frequent and dramatic. The Maligne valley narrows to a canyon as you reach the bypasses at the fourth bridge... dramatic views get even better. When you reach the third bridge, the hike will become noticeably busy. Near the second bridge, you can go left towards the parking lot and interpretive displays or go right for the more scenic route.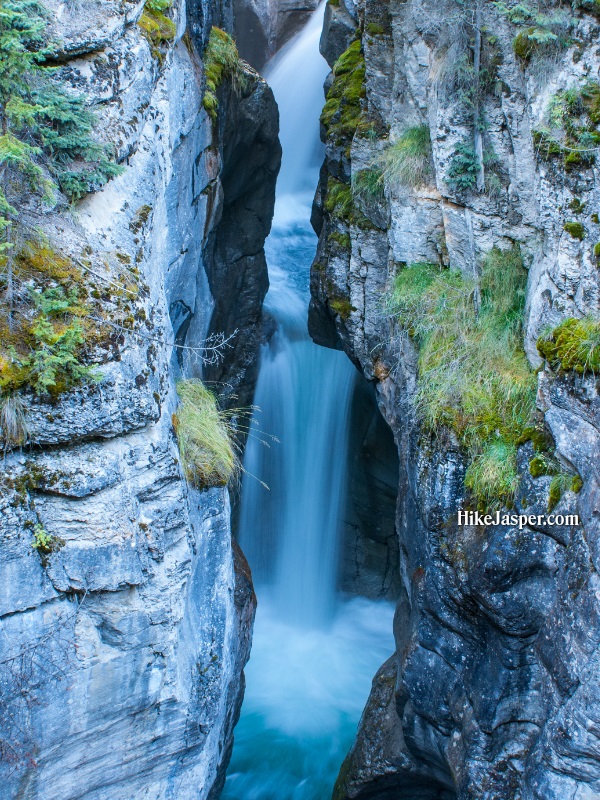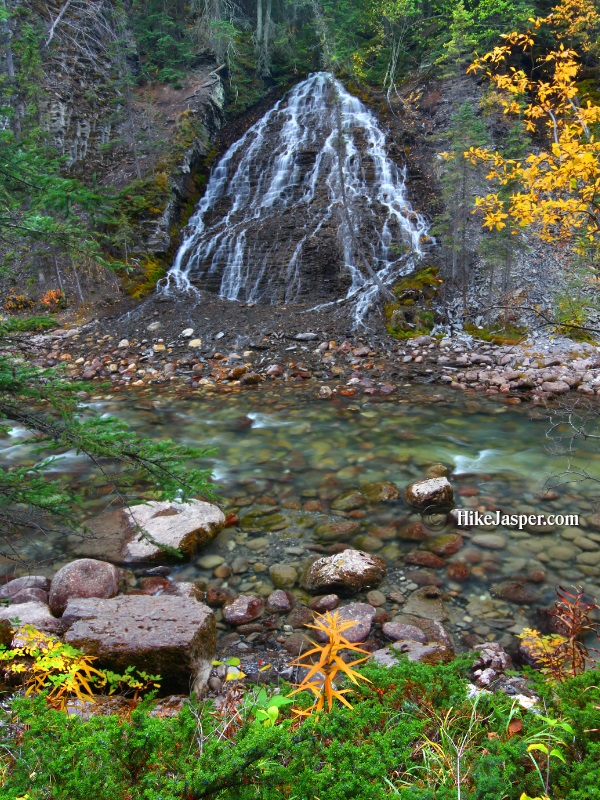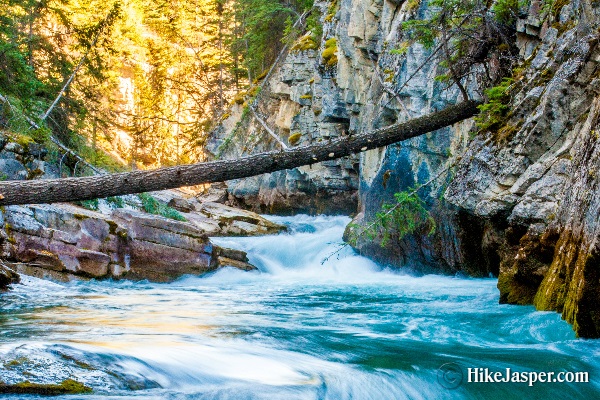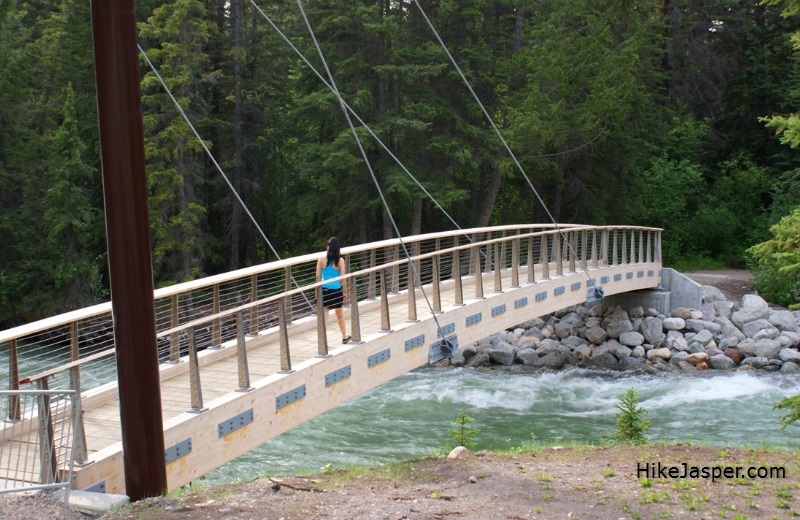 Maligne Canyon's new 5th Bridge.
Many Springs can be observed when hiking between 5th and 6th bridges.
You will find a number of springs unique to Jasper that join the Maligne river from under your hiking trail. This is one of the most interesting points among Jasper's hikes. If you are hiking the Maligne Canyon, don't cut your hike short without at least considering this amazing area.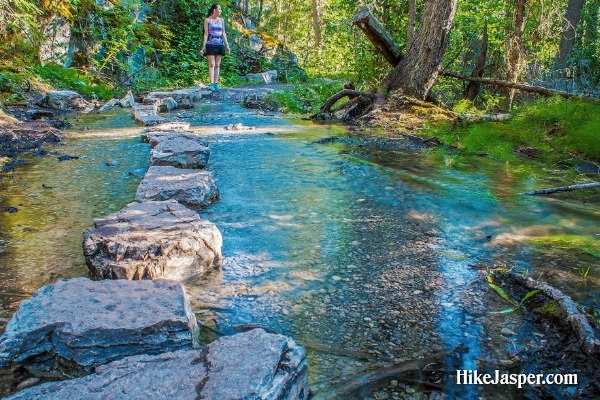 Maligne Canyon Hike - Off Season
The much quieter off season is an amazing time in Jasper for hiking enthusiasts to take it all in.
Jasper's Maligne Canyon hikes remain very interesting at any time of year. The most interesting Rockies' canyon reveals different flavours to explore as the seasons change.
Be sure to observe how weather patterns have contributed to this fascinating wonder.
Views on the Maligne Canyon Hike
Maligne canyon's hike may not have obvious overlooking views, but with just a short 2 minute detour, you will be exposed to probably one of Jasper's best views for the least amount of effort!
Near the second bridge, simply take the high 7H hiking route to the mountain corner. There is a large boulder that marks this great Maligne canyon view. You will easily notice a middle hiking trail (7F); the 7H is just a little higher.
Hiking from 6th bridge to Maligne Canyon's first could be considered a strain if you are not comfortable with climbing what could be comparable to a dozen flights of stairs over a 3.7km distance. If you are concerned, try to use 2 vehicles and start at the first bridge, so you can hike down to the 6th instead of up. Otherwise, we would say hiking from the 6th to the first is the best way to experience this interesting canyon's powerful build-up.

Maligne Canyon's trail edges can be slippery when wet.

Please be Bear Aware Everywhere - Grizzly Bears can be Encountered near Maligne Canyon's 6th Bridge
Maligne Canyon Summer Hike Satellite View
Maligne Canyon Hiking Trail Map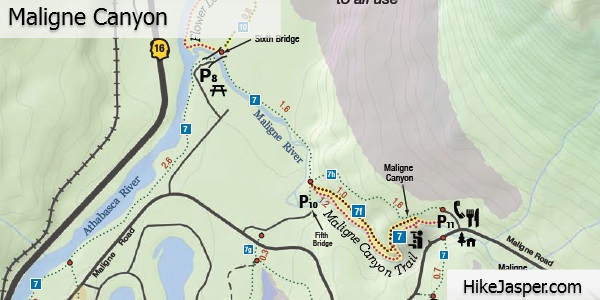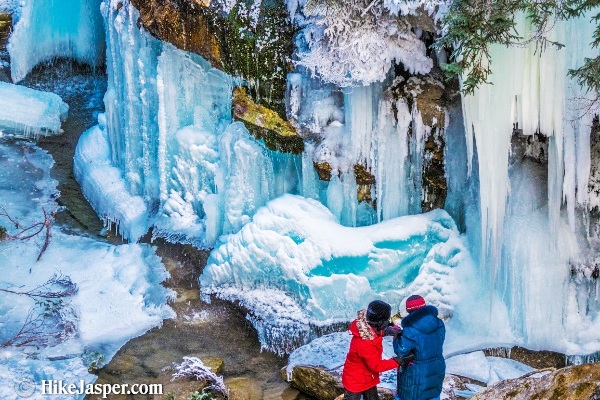 Winter Maligne Canyon Ice Walk
Tours in
Jasper
Popular Tours in Japser National Park..